Imagine...
standing in a private place
with your favourite person,
DECLARING YOUR COMMITMENT TO one anOTHER.
AN INTIMATE, UNHURRIED AND BEAUTIFUL ELOPEMENT EXPERIENCE awaits...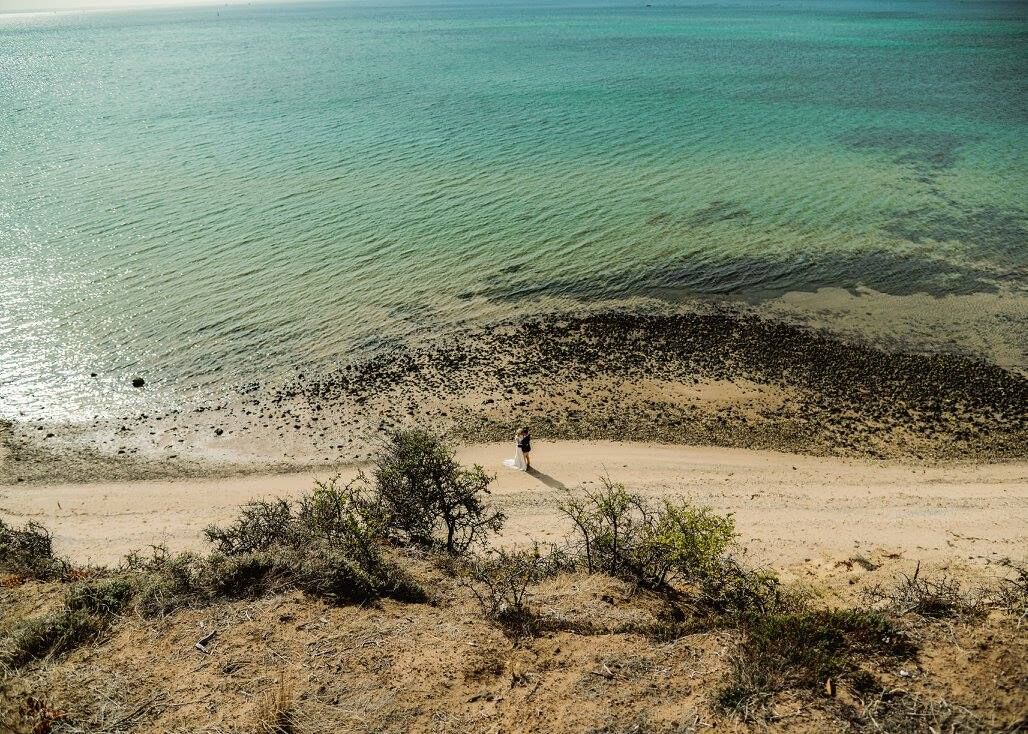 Want to marry your love without the fuss of run sheets, seating plans and invitations, the expense of catering, entertainment and venue hire? Would you rather dedicate your time and energy toward the commitment you wish to make? You can. And it can be so very beautiful.
Sally Hughes, Andrew Redman and Shannon Jeans, three of Melbourne's most popular and highly sought after Marriage Celebrants, have come together to offer you the freedom and flexibility that only elopement ceremonies can offer. Stand with them in the heart of the city, on a private stretch of sand, in the bush, in your local cafe or in your own backyard and say 'I Do' without a care in the world.
Sally, Andrew and Shannon are fun, creative and experienced Celebrants and they're willing to travel anywhere, on any day of the week, to conduct your elopement ceremony.
And importantly, they know Melbourne and the creatives who reside within. Want your elopement captured on film? Want a gorgeous bouquet? No problem! They can introduce you to the most talented suppliers in town.
Sally Hughes
Stylish, creative and oh, so friendly, it's not hard to see why Sally is one of Melbourne's most sought-after Celebrants. Versatile and accommodating, Sally's equally at home conducting a ceremony in a swanky city bar or manicured English garden as she is in a graffiti-clad Melbourne lane way.
She's one of Melbourne's most experienced and awarded celebrants, she's a Celebrant coach, a lover of spreadsheets (a by product of her days as a Business Banker) and musical theatre tragic (ask nicely and she may even belt out a show tune from a cliff top).
With Sally on your team, you are guaranteed a timeless and memorable elopement experience… oh and a great deal of fun along the way too!
Andrew Redman
Articulate, approachable and charismatic, Andrew brings a natural, relaxed and fun vibe to ceremonies, big or small, and ensures that there will be as many laughs and smiles as there are happy tears.
When he's not being flown by his couples to remote islands or mountain tops, you'll probably catch Andrew on a golf course or training elite athletes. With a professional corporate background as well, this is a guy that you will connect with, and who will ensure you remember your intimate ceremony for all the right reasons.
Andrew looks forward to the opportunity of getting to know you, with the goal of creating an authentic, personal and unique ceremony that perfectly matches your personalities and preferences.
Shannon Jeans
Engaging, sincere, heartfelt, dynamic and enthusiastic are just a few of the words that have been used to describe Shannon and her approach to conducting ceremonies.
Couples love her warm, adventurous and effervescent personality... and her willingness to scale cliffs or climb rocks to find the perfect elopement ceremony spot. Heck, she'll even paddle out on a board or don her scuba gear to conduct your ceremony in the water if you'd like!
When Shannon's not in, on or around the surf, you'll find her conducting some of the most memorable, fun and personal ceremonies in Melbourne, and well beyond. An extremely popular and experienced celebrant, Shannon will go above and beyond to ensure the most perfect occasion for you.
signed and sealed elopements
PROUD SUPPORTERS OF MARRIAGE EQUALITY